Pride of Laguna Lions Club

The Pride of Laguna Creek Lions Club was sponsored by the Elk Grove Lions Club and was Chartered by Lion's Club International in 1993.  We are proud to represent the Sutter Zone in the Sacramento Region of District 4-C5.
We are 38 members strong and participate in many local events and service projects each year. We partner with the Cosumnes Community Services District to provide pancake breakfasts at two of their signature events –  Breakfast with the Bunny, and Breakfast with Santa. Each of these events are extremely popular within our community.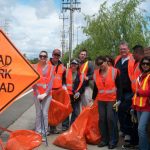 We have adopted a busy street in South Sacramento, and have made a commitment to maintain it.
We are most proud of our commitment to the youth in our community. We are the chartering organization for a Cub Scout, Boy Scout and Adventure Crew Troops.  We have promote Flag Day with presentations to the elementary schools in Elk Grove in which we share the rich tradition of patriotism with children in Grades 2 through 5. We also participate in the Lion's Club International Peace Poster Contest, and the Student Speaker Contest.
We have many projects scheduled throughout the year. These include: Peace Poster Contest – Adopt a Street Clean-up, EG Wins Breakfast, Multiple High School Fundraising efforts, Student Speaker Contest & Flag Day Presentations, Giant Pumpkin growers Forum luncheon, Sacramento Farm Bureau Annual Dinner, Children's Reading Action Program, Elk Grove Youth Baseball Opening Day Breakfast, Lions Project Canine Companions for Independence (LPCCI) Crab Feed, Lions Eyes Across California, Breakfast with the Bunny, Breakfast for Running with the Elk participants, Parkinson's Walk, Elk Grove Western Festival Beer Garden, District 4-C5 Convention, High School Senior Breakfasts, Breakfast for the EG Run 4 Hunger (Elk Grove Food Bank), High School Senior Breakfasts,  Lions Youth Exchange Program, Lion's Wilderness Camp, Veteran's Stand Down, Support "Watch Dog" Programs, USA/Canada Forum, White Cane Day Rummage Sale, International Food Fair, Giant Pumpkin Festival, FFA Dinner and Bar, Toy Drive & Bell Ringing with the Salvation Army, Horses Healing Heroes dinner, People to People Thanksgiving Dinner, Breakfast with Santa, Shop with a Cop
We are especially proud of our involvement in our Dictrict 4-C5. Several of our club members serve on various committees and have served as officers of the District. Our own Richard Wilmot was selected to serve as the District Governor for 2010-2011 and Multiple District Council Chair in 2011 – 2012. Mike Retzlaff was selected to serve as the District Governor for the 2015/2016 year.
We also support Programs and Foundations within the District they include:
Lions Education Foundation (LEF)
Northern California Lions Sight Association (NCLSA)
Folsom Project for the Visually Impaired
Wilderness Camp for Deaf Children and Camp Ross Relles
City of Hope
Student Speaker Foundation
Lions Project Canine Companions for Independence (LPCCI)
Society for the Blind
Lions Clubs International Foundation
We are a proud member of Lions Clubs International, the world's largest service club organization with more than 1.4 million members in approximately 46,000 clubs in more than 200 countries and geographical areas around the world.
More about Lions Clubs International